My birthday is coming up soon and I decided to buy myself a puppy. I grew up with dogs all my life and only when I moved back to my home country to complete my academics, did I not have a dog. After close to 10 years now without a pet, I think it is the appropriate time for my partner and I to get Pablo.
Pablo will be 8 weeks old when I go pick him up and is a pure breed working-line German Shepherd. For those of you who don't know the difference between a working-line and a show-line German Shepherd, in the most basic way of explaining – the working-line has a straight back, whereas the show-line has a downward sloping back. Having a straight back will prevent a lot of sicknesses and illnesses GSD's (German Shepherd Dogs) are known to be prone to, due to the selective breeding favouring overall health and drive over looks and presentation.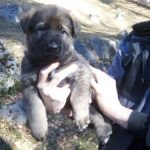 In case anyone is interested in GSD's and is looking for a responsible and certified breeder, the breeder I am getting Pablo from is top notch!
https://vomklammeck.wixsite.com/website
She has been very transparent on how her kennel looks like, the condition of the Mother and pups and most importantly, answered all questions I had asked.
I'll be uploading a picture of the newest NYX Labs family member as soon as he is in my possession.